We are in Apulia, in the Gargano region, more than a century ago…
Here, in Southern Italy, tradition has it that the family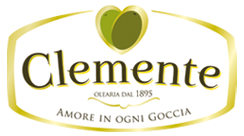 first-born son is named after his paternal grandfather to carry on with the family name's tradition.
At the end of 19th century, Berardino Clemente started trading almonds and oil.
His son Michele, and his grandson Berardino were able to properly follow up with their father and grandfather's activity.
Berardino managed not only to preserve the strong commercial relationships undertaken by Michele but also to transform his well-known tasting skills in a commercial key strength. He soon became a strategic partner for some leading packaging businesses across Northern Italy for which he selected and purchased Apulian olive oil.
But Berardino Clemente wasn't wholly satisfied with that.
He knew that he would've had to promote his product across his landto pay homage to his father and grandfather.
This is how Berardino started the bottling activity of oil, handing all his knowledge about tasting and farming down to his two male sons Michele and Antonello. In 1983, at the age of 60, Berardino disappeared suddenly and prematurely. His sons, though very young (Michele was 24 and Antonello 20), raised between the strong and intense perfume of Oil decided to take over their family-owned business.
They resumed the relationships with producers, oil crushers and Northern Italian companies and, despite their very young age, they showed great abilities and knowledge worth their father's teachings. After a few years, Carla, the family's third daughter, joined them and started taking care of the administrative part.
Soon, the proactiveness and commitment shown by the boys paid off allowing them to enlarge their company's size and becoming a market leader within the oil industry in just over 20 years as well as a key protagonist of the local and international market which has been handled since 2000 by Ilenia, Berardino's last daughter.
Today Berardino's dream has come true. Olearia Clemente does not simply produce oil but it also conveys a real value to his Product, Land, across his Land thanks to the direct running of all production steps, from looking after the well-extended stretches of olive trees to modern and certified transformation and bottling plants. Nothing escapes the rigorous checks conducted by the company inside its own facilities.
This is the story of an Italian Family.
Olearia Clemente, the largest Italian olive oil producer.